Welcome to our hotel's official website!
In case of direct booking at our website 5-10% discount is guaranteed!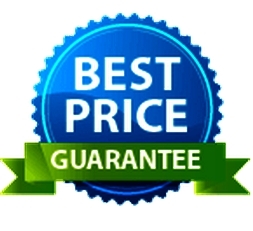 The offers directly by us or from our official website ( www.janushotel.hu ) are guaranteed to be best in price, better offers cannot be found at other agencies. If you happen to find a better public offer, we provide that as well.
If you find a better offer contact us at janus@janushotel.hu inform us about the offer. (website name, URL, maybe a screenshot if possible).
Important rules and information:
– The hotel cannot be visited with pets. Thank you for your understand!
– Smoking is not allowed in the hotel (except the smoking area)!
Short story of the hotel:
In 2013 we became 20 years old, the first guests arrived at 25th of June in 1993!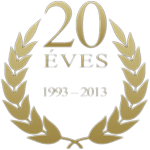 Janus Boutique Hotel & SPA is located in the heart of the city, 100 from the trainstation, 500 m from the beach, can be found on the Main street. The building complex came into existence with integrating an old evangelic chapel and a school together.
THE ARCHITECT: the hotel is a social area…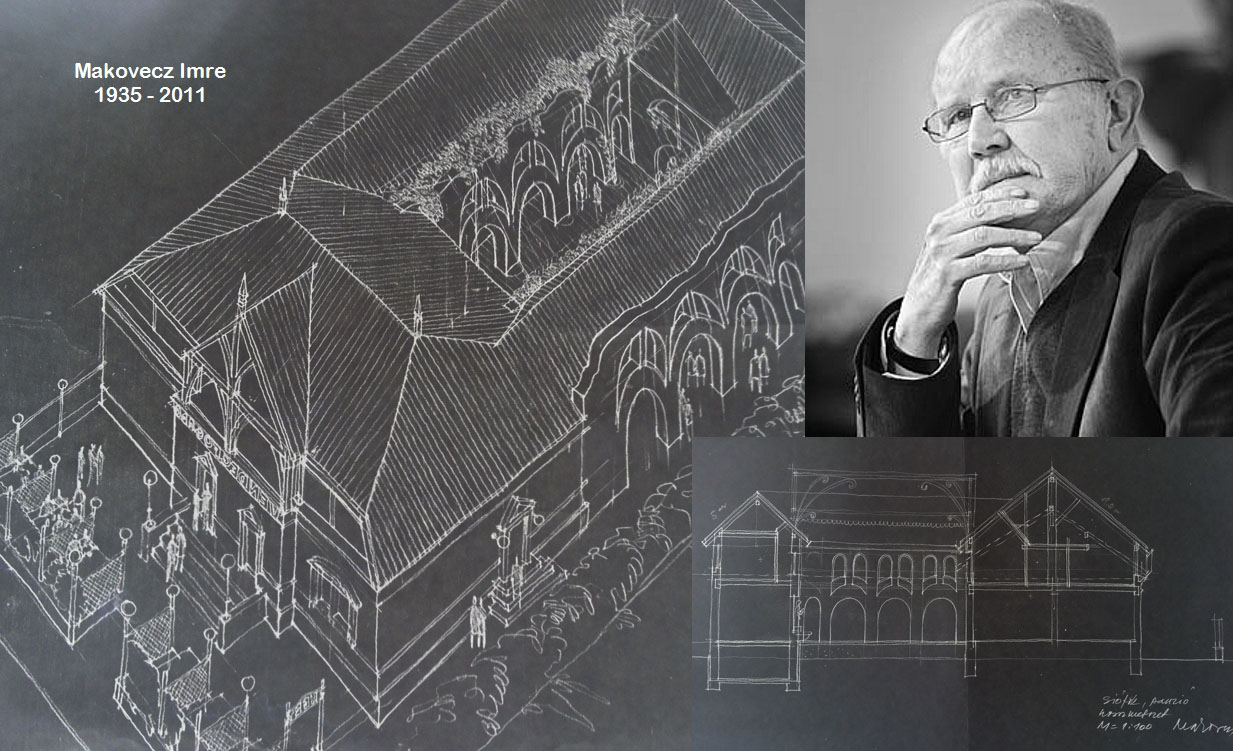 The hotel's plans were made by one of the well-known Hungarian architects – designer of more churches and the Hungarian pavilion on Sevilla Expo (1992) – State prize rewarded Makovecz Imre DLA . Also to his name, on the other side of the street can be found an evangelic church, which were made by his plans aswell.
THE DESIGNER:  on romantic ways…

We are the first Hungarian "boutiqe hotel", where every room differs from the other. This is a new hotel concept, which attains great success worldwide, now available in Hungary aswell. The main point is that the guest can choose from room types being equal to the mood, taste and every day may feel in another world without even leaving the hotel, but move to another room.
Between 2004-2016 based on the plans of the wellknown industrial artist and designer  Dr Darabos Anita DLA – We have created unique design rooms, which all represent different styles and themes. So our guests can enjoy the magic of the various ages and styles.
The house is suitable for a little romantic adventure perfectly for the arts liking too. The new rooms combined with the wellness facility make the days spent on Siófok as a unique experience.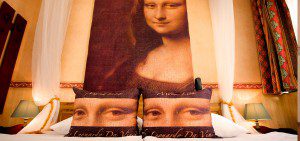 The rooms, despite of their small size (12 – 14 m2) are very cozy and comfortably equipped. For guests who desire spacious placement, we recommend our superiors or galleried suites.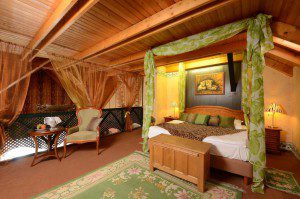 We recommend it for families or the ones liking the spacious placement (70m2). Two-tier suite in one airspace, the ground floor is the daytime part with sofa which can be opened (comfortable for 1 adult or for 2 children). The stairs drive from here to the upper level where the bedroom is with a big doublebed (comfortable for 2 persons).
SUPERIOR SUITES (for couples)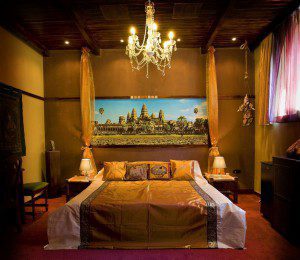 These suites are situated on the hotel's ground floor, beyond the unique design. The speciality of two of them is the heart shaped bathtub in the room, only the toilette is separated. We recommend it to our guests liking the specialities because of their exclusivity.
LOCATION AND EQUIPMENT OF THE ROOMS
The hotel can be found on the old Main street, surrounded with apartements, it is bordered with the own car park and the promenade next to the railroad.
In the hotel we have 19 Rooms, 4 Superior Suites and 7 Family Rooms. The Family Rooms (appartements) can be found on the upper level, their galleried bedrooms face the inside of the building.
The Superiors are on the groundfloor, the other rooms are on the upper level in different locations.
All of the rooms have increased soundproof linings. With closed windows and functioning air conditioning, the bypassing trains won't disturb our guests' relaxing days.
In the beds special spineresting, memory foamy mattresses serve the guests' comfort. All rooms equiped with air conditioner, shower, WC, hair dryer, telephone, Sat-tv, minibar and tresor.
In the hotel's own, closed (open-air), watched by cameras car park you can always feel your valuable car in safety. The usage of the parking lot is free of charge, except the summer main season.
Take the opportunity, our helpful and polite colleagues await your visit between April and November in Janus Boutique Hotel and SPA.
The hotel is closed in winter season.
Read independent reviews!
Vélemények a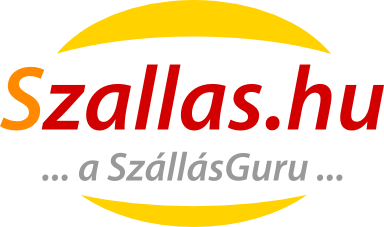 alapján!
Baráti társaság 4 nap alapján (9,3)

9/10
"Legszívesebben az összes szobát megnéztük volna "élőben". A fürdő is elvarázsolt bennünket."
---
Havas Mihályné, 3 nap alapján (9.7)

10/10
"Soha nem találkoztam olyan szálláshellyel ahol a reggeli délelőtt 12 óráig tart. A reggeli választék pazar, minden mi szem szájnak....... Nem kell korán kelni, a szobák mesések, a lakosztályok pazar felszereltségűek. A személyzet elragadó. Egyszerűen minden tökéletes, biztos vagyok benne, hogy még visszamegyek a párommal. A privát jakuzzi árát egy kicsit soknak találtam, mivel zárás után biztosítják a jakuzzi használatát, így már oda senki nem mehet le. Ezt leszámítva minden tökéletes és csak ajánlani tudom nyugodt szívvel."
---
Fiatal pár 3 nap alapján (10)

10/10
"Teljesen elvarázsolt a hotel, mintha egy mesevilágba repültünk volna. Kifejezetten a hotel stílusa miatt mentünk, amivel pluszot ad a vendégeknek. GYönyörű volt. A wellness rész is nagyon nagyon hangulatos, a saját hangulatával. A személyzet is végig mosolygott, nagyon aranyosak voltak. Nem utolsó sorban az elhelyezkedése is 10/10, közel az Aranyparthoz."
---
Fekete Szonja - család nagyobb gyerekkel 3 nap alapján (10)

10/10
"Itt igazán Hercegnőnek érezheti magát az ember bármikor is jár itt! :)"
---
Vélemények a 

  alapján!
Russel "Short Trip To Siófok" (8,8)

9/10
Good location close to all transport links. Easy to find. restaurants close to Hotel. Hotel offers 10% off a restaurant nearby. Free hot drinks all day - Tea, Coffee, Hot chocolate, English spoken and very helpful. Good spa facilities.
---
Boštjan "extraordenary" (9,6)

10/10
"Wi-fi was very slow

Size of the room (We had family room), pool, facilities, very helpful and polite staff"
---
William (8,3) "Quite special and unique hotel"

8/10
Unique hotel with interesting themes for every room and charming building based on a former chapel and school. Friendly and warm staff. Definitely worth visiting!
---
Dennis "A stay that was memorable for all the right reasons" (9,2)

9/10
"The staff could not have been more helpful and accommodating"
---
Vélemények a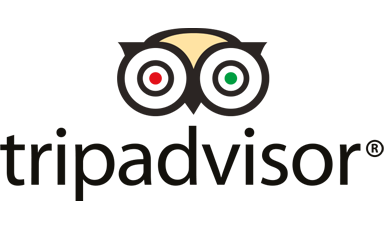 alapján!
couchier "Perfect place for a wellness weekend"

5/5
We spent a weekend in the hotel with my husband. We could choose between two rooms to stay in. The staff was nice and helpful. The room was small (as usual in boutique hotels) but well-equipped. For breakfast they had a wide and pretty delicious selection of food to choose from. The pool area was clean and had a good atmosphere.
---
kbrana "Excellent and unique ambiance of the hotel"

4/5
Not a 5* hotel but uniqueness of all rooms, corridors, SPA, ... is fabulously. Staff is very pleasant so ask to choose room design if it is possible, or ask during booking what is available. The best part of the hotel is the swimming pool and SPA area. Great design, size, and cosy feeling in this area is guaranteed. Hotels possess private parking area that is under surveillance cameras and electronic gate. Is informed this is the only boutique hotel in Hungary.
---
Vangriffondoor "Beautiful hotel with amazing atmosphere and great wellness area"

5/5
We went to this hotel for a long weekend with our 2 daughters! We got a beautiful spacious clean family room. Although full, the hotel was not crowded, there were plenty of spots to sit in privacy and relax. Very nice ambience and tasteful decoration. The wellness area is just wonderful for such a small and cozy hotel. The big pool was heated and the huge whirlpool was very quiet and relaxing. The sauna was impeccable, everything was simply perfect! Breakfast was fresh and delicious with a wide variety. The staff was forthcoming and very friendly! We had a wonderful cosmetic treatment for a bargain price. Highly recommended! The hotel's location is right next to the center and to the lake within 10 walking minutes. Nice restaurants close by. We will definitly return to this hotel for a longer stay. Highly recommended, one of my favorites so far!
---
jeanie12355 "Great Hotel, Great Location"

5/5
We had been allocated rooms on the first floor, but because my son had broken his foot we were given rooms on the ground floor (once they became vacant). The staff were very friendly and helpful, especially Sztella.
The rooms are quirky, but fun. All had air conditioning which was really welcome.
Breakfast is included and had both cold continental style and also a cooked breakfast. Free tea and coffee are available all day.
The spa area is very nice and includes a small gym.
The hotel is close to both the town and the lake.
---