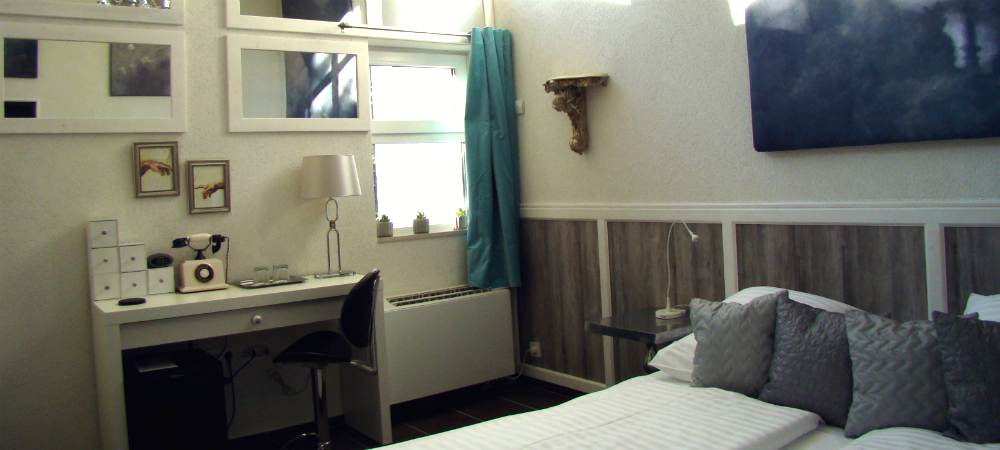 Discount offer, that can be booked from 17 EUR! Basic price is 100 EUR /2 persons /2 nights in a unique designed room from Sunday until Friday.
Important informations about the voucher! There are some restrictions to redeem the voucher, so please, read the information given below carefully!
If you would like to make a reservation write us an email and choose at least 2-3 dates that would be appropriate for you. Because the hotel can not guarantee a room any time. Write us as well, if you would like to book suite, number of children and their age, so that we can determine an extra fee.
Considerate the hotel business interests we are not obliged to accept voucher any time. Especially in periods of high levels of reservations. From 2-3 dates, that were given during the reservation, the hotel will confirm that one, which is the most appropriate for us.
Voucher contains:
Accomodation for 2 nights for 2 persons
Buffet breakfast
Accommodation in Boutique Hotel's homelike and unique designed room which is equiped by a double bed with spine relaxing, therapeutic mattress, telephone, Sat TV, minibar, bathroom with shower, hair drier, second lock on the door, individually controlled heating/air conditioning, safety deposit box, bath robe
Wellness usage ( Finnish Sauna, Infra Sauna, Steam Bath, Aroma Room, Cleopatra SPA- swimming pool, Caesar SPA- jacuzzi)
Open Bar: gratis unlimited tea, coffee, hot chocolate and water
Room can be exchanged on suite, that is comfortable for 2-3 adults or 2 adults+ 2 children (under 12!), for extra fee
Child discount: Children under the age of 3 are free of charge, in case they sleep in one bed with their parents (there is no opportunity for extra bed in the room)
The basic price of voucher is 100 EUR /2 nights /2 persons. If there are some extra charges it can be paid at the arrival.
Possible extra Charges per voucher:
33 EUR if arrival at the weekend.
33 EUR in middle season ( from 1-st of May till 3-st of Jun; between 1-st and 30 of September)
100 EUR in main season (from 1-st of July till 31-st of August)
117 EUR to exchange room on suite (for 2-3 adults or 2 adults + 2 children (under 12!) Exception! There is no opportunity to change room on suite during the main season! Superior suits can not be booked with voucher!
17 EUR in periods of public holiday or Autumn school holidays. 
Redeemable: from 14 of March till 9 of December 2018.
Payment: to make a reservation 17 EUR advance paiment is necessary. The rest of price & possible extra charges can be paid at arrival. In case, that the arrival date is over 60 days, 100% of voucher cost has to be paid before the arrival. You can pay by cash, bank transfer or by credit card. Please, contact us if you have any question by e-mail: janus@janushotel.hu or by phone: +36 84 312-546 or +36 30 5006315.
Cancellation policy:
Free cancellation is possible until 72 hours before the arrival, if cancelled after that time 20% of room price has to be paid.
The price is valid  from 14 of March till 9 of December 2018.